Sale price
$89.99
Regular price
$119.99
Unit price
per
CYBER SALE
Sold out
FREE U.S. Shipping & FREE Returns
Save $15 with code PILLOWS on an order of 2 or more pillows
Free U.S. Shipping

Free Returns

Secure Checkout

Satisfaction Guaranteed
Fill

Lion Down Alternative® (High-end memory foam + microfiber)
Infused with silicone gel beads for passive temperature control
Microfiber technology creates silky plumes to mimic down
Memory foam provides viscoelastic support
Memory foam is CertiPUR-US® certified
Fully adjustable loft
Hypoallergenic
Cruelty-free
Cover

Includes machine-washable outer bamboo cover
Lustrously smooth and lustfully soft
Gridline pattern evocative of Venetian waterways
Hypoallergenic
Eco-friendly
Extra-breathable
Stretchable inner lining
Upgraded premium YKK zipper
Optional add-on: water-resistant cotton pillow protector
Size

Standard / Queen size: 26" x 18''
3.5 lbs of fill material in Standard Size, fully adjustable
King size: 36" x 18''
4.5 lbs of fill material in King Size, fully adjustable
Individually sold
Delivered vacuum-packed
Please allow up to 24 hours for pillow to expand after unpacking
You'll get the best night's sleep on the Saybrook® Adjustable Pillow. Made with a luxurious gel-infused blend of memory foam and microfiber, the pillow is fully adjustable so that you can get perfect alignment in any sleep position. Comes with a removable bamboo cover. Individually sold.
Lion Down Alternative® (High-end memory foam + microfiber)
Infused with silicone gel beads for passive temperature control
Microfiber technology creates silky plumes to mimic down
Memory foam provides viscoelastic support
Memory foam is CertiPUR-US® certified
Fully adjustable loft
Hypoallergenic
Cruelty-free
Includes machine-washable outer bamboo cover
Lustrously smooth and lustfully soft
Gridline pattern evocative of Venetian waterways
Hypoallergenic
Eco-friendly
Extra-breathable
Stretchable inner lining
Upgraded premium YKK zipper
Optional add-on: water-resistant cotton pillow protector
Standard / Queen size: 26" x 18''
3.5 lbs of fill material in Standard Size, fully adjustable
King size: 36" x 18''
4.5 lbs of fill material in King Size, fully adjustable
Individually sold
Delivered vacuum-packed
Please allow up to 24 hours for pillow to expand after unpacking
Fully Adjustable

Certified Foam

Breathable Fabric

Hypoallergenic
View full details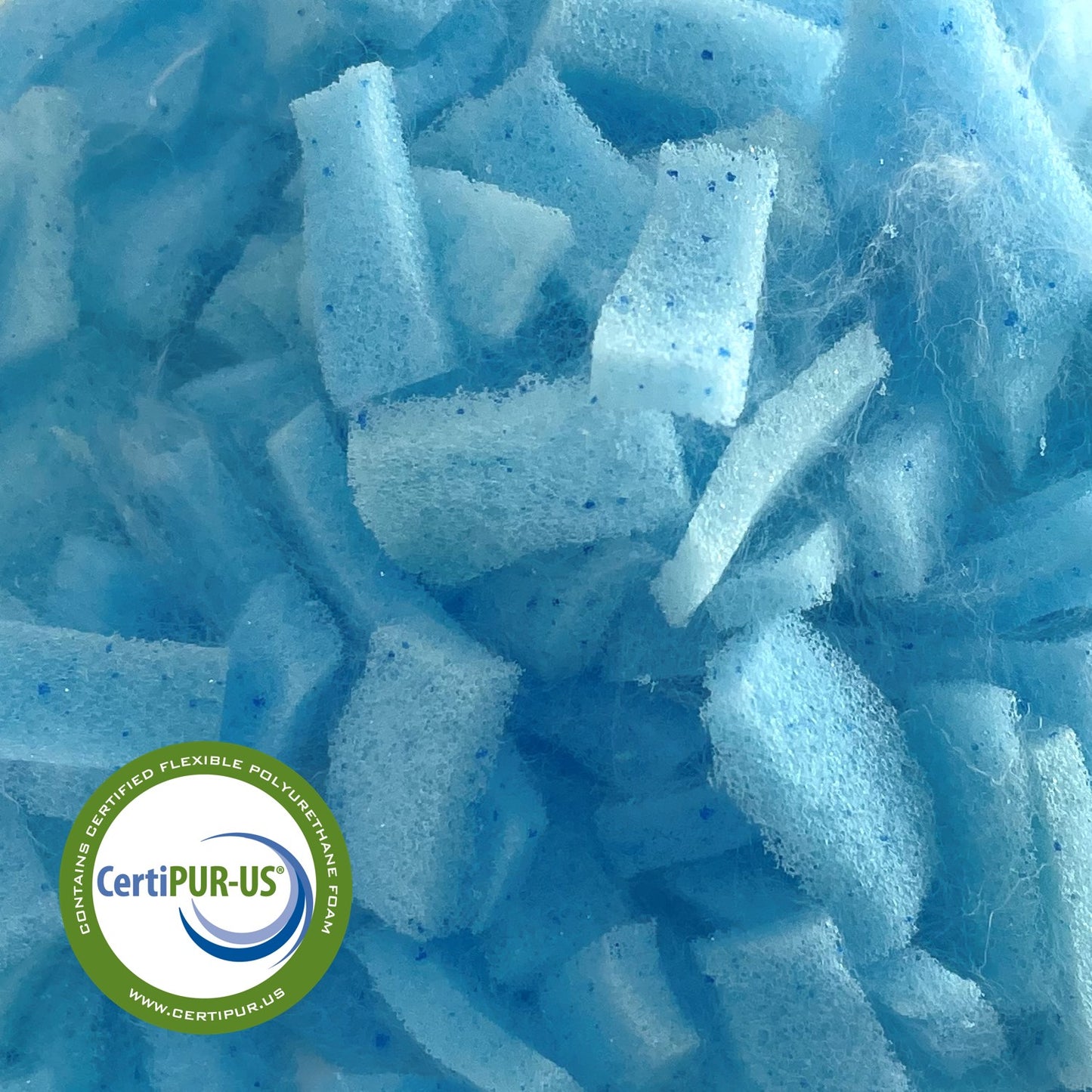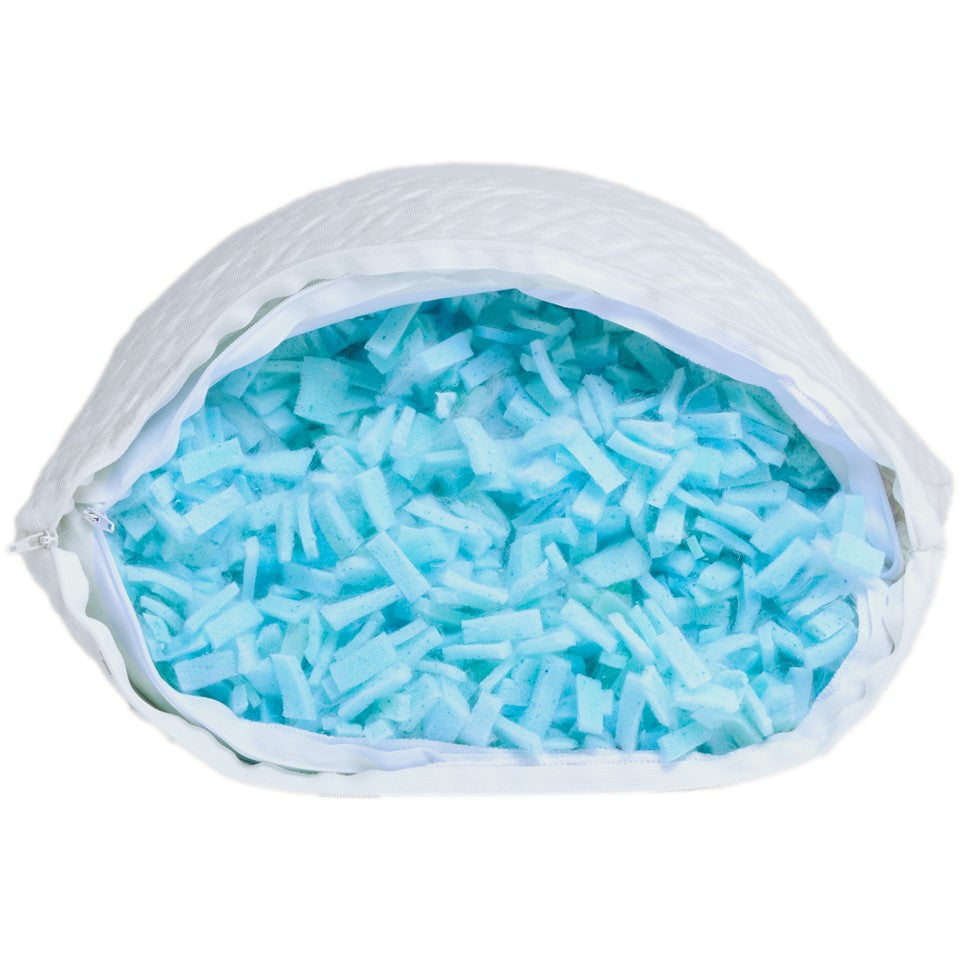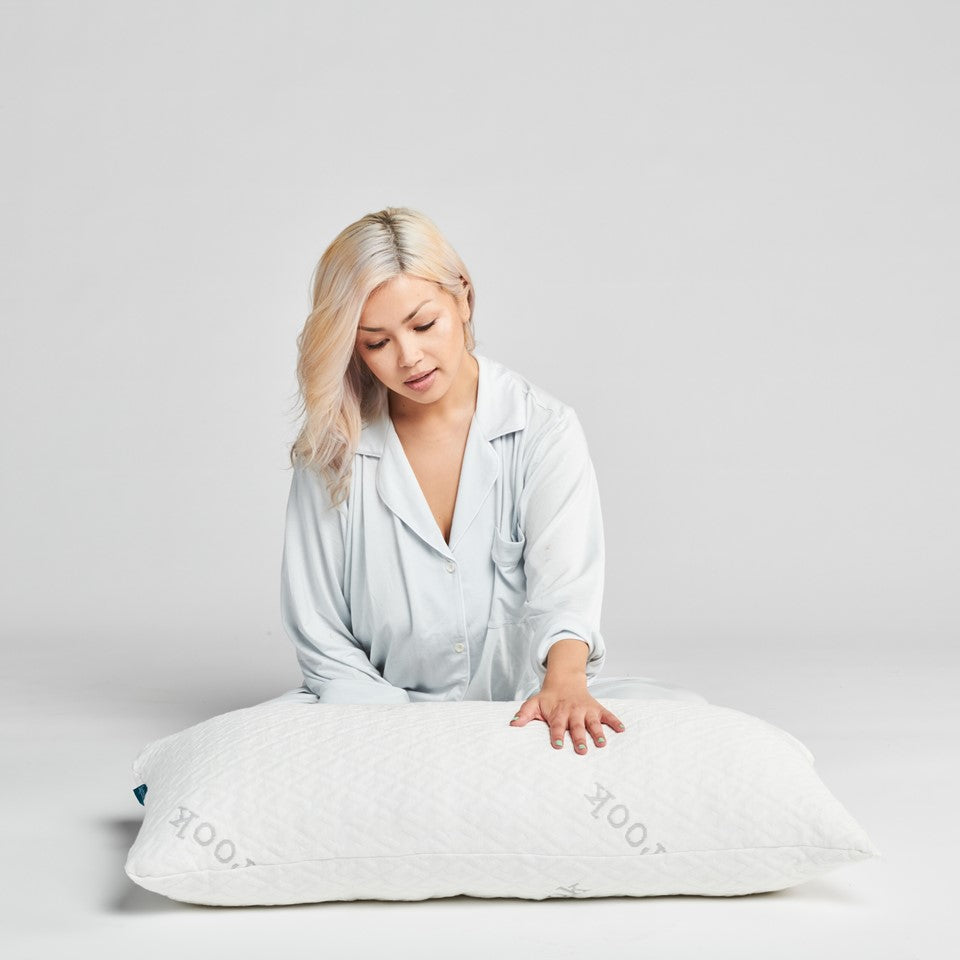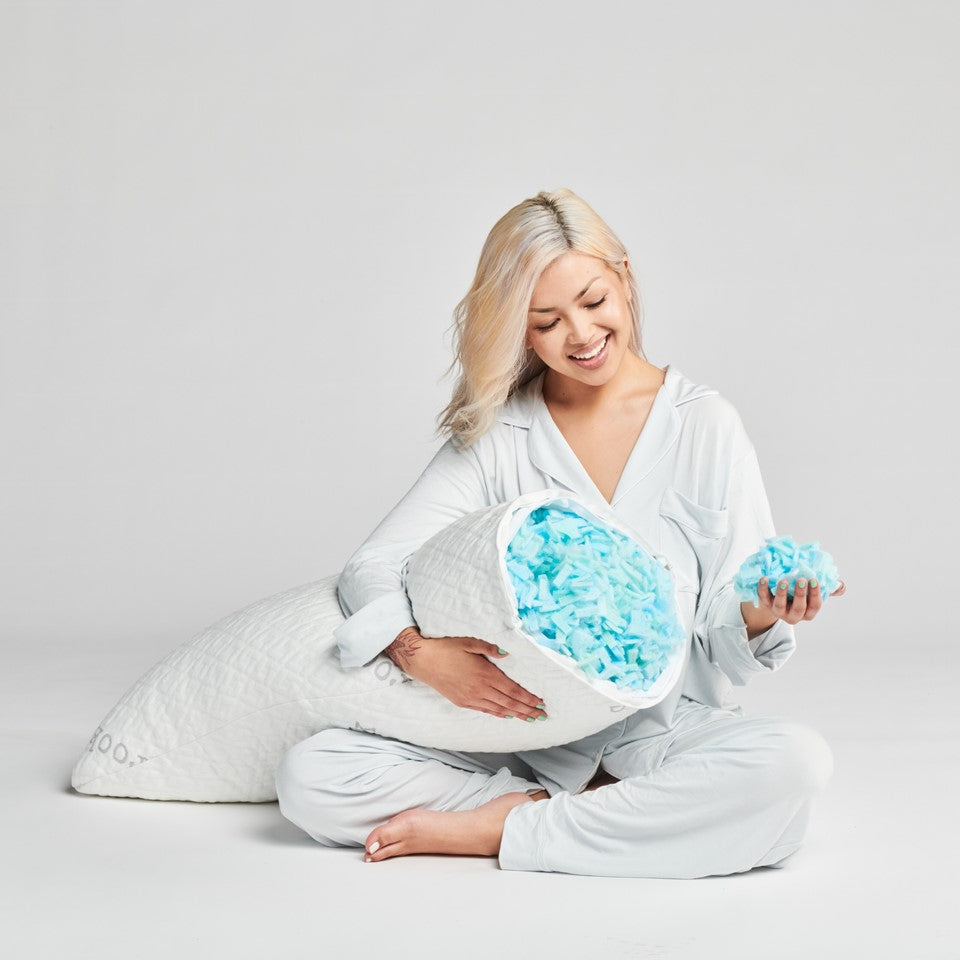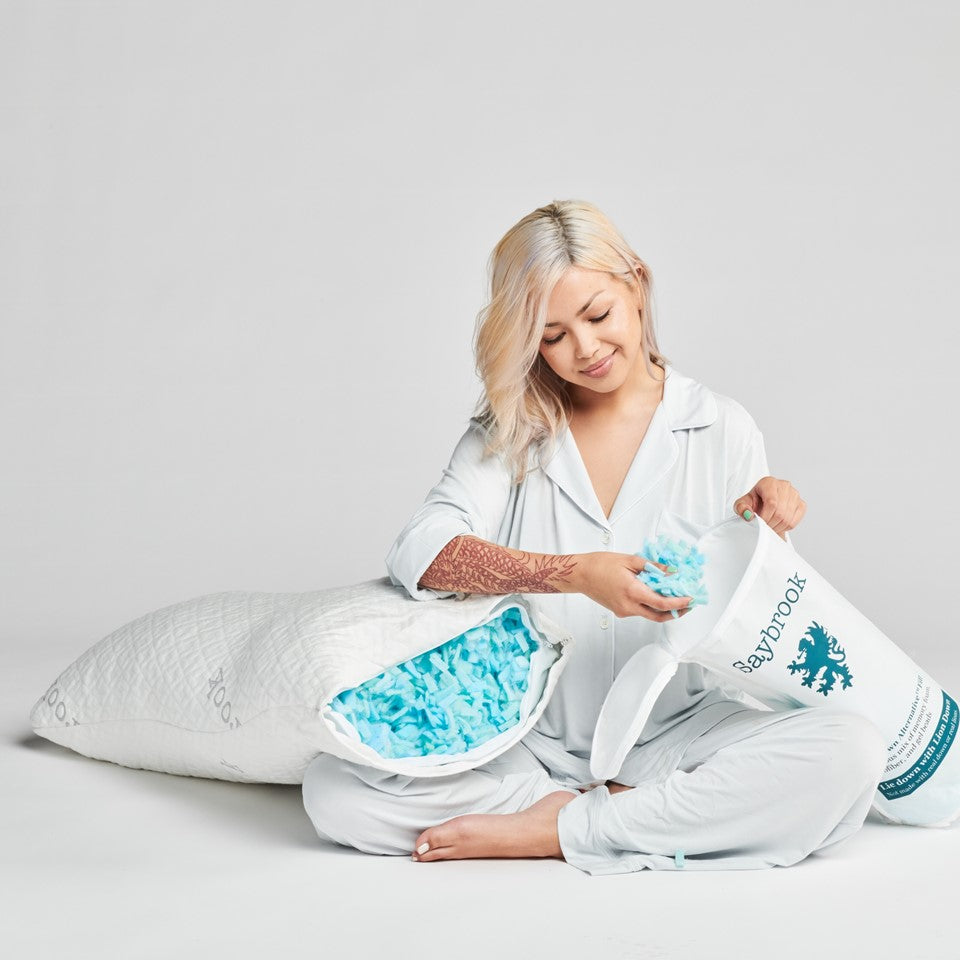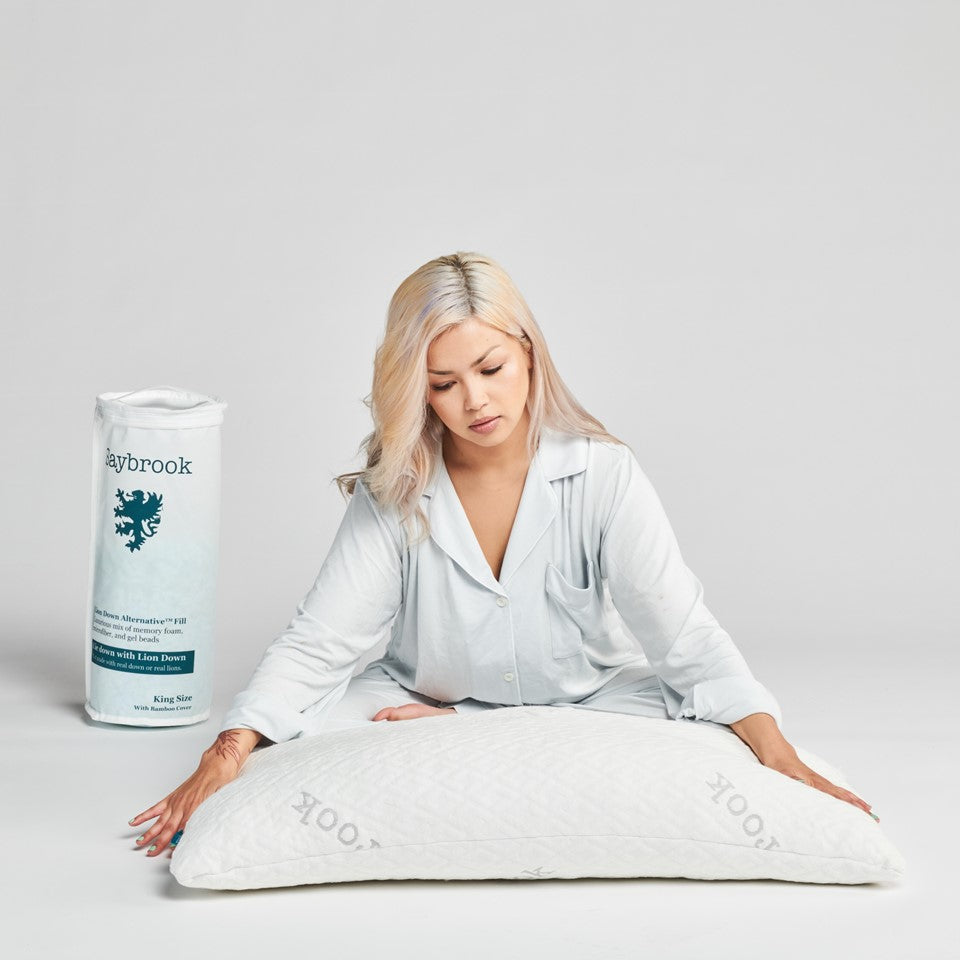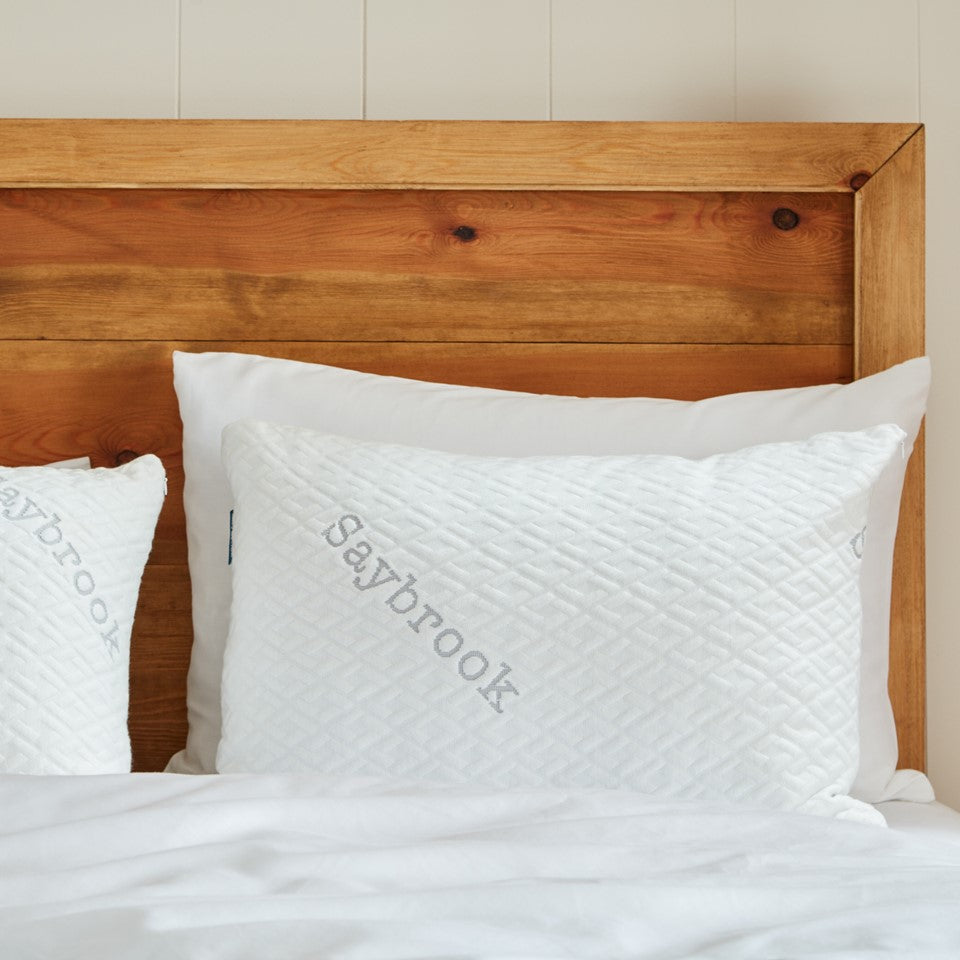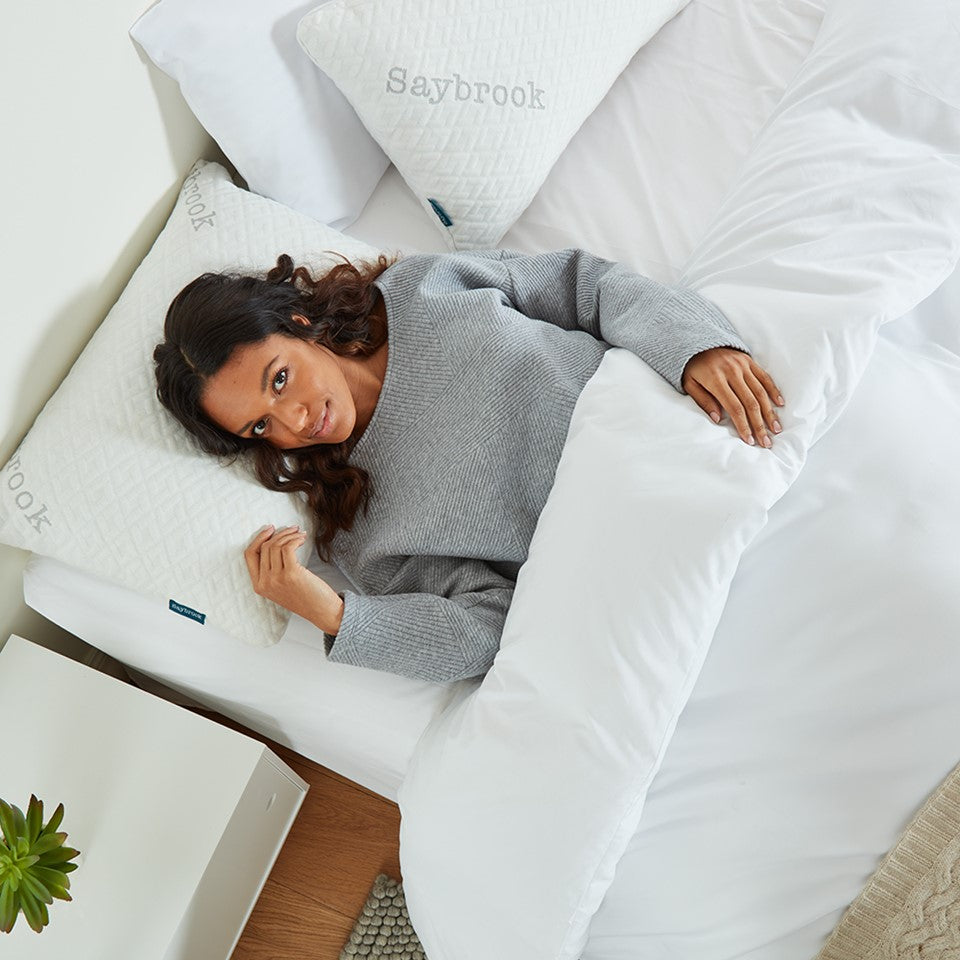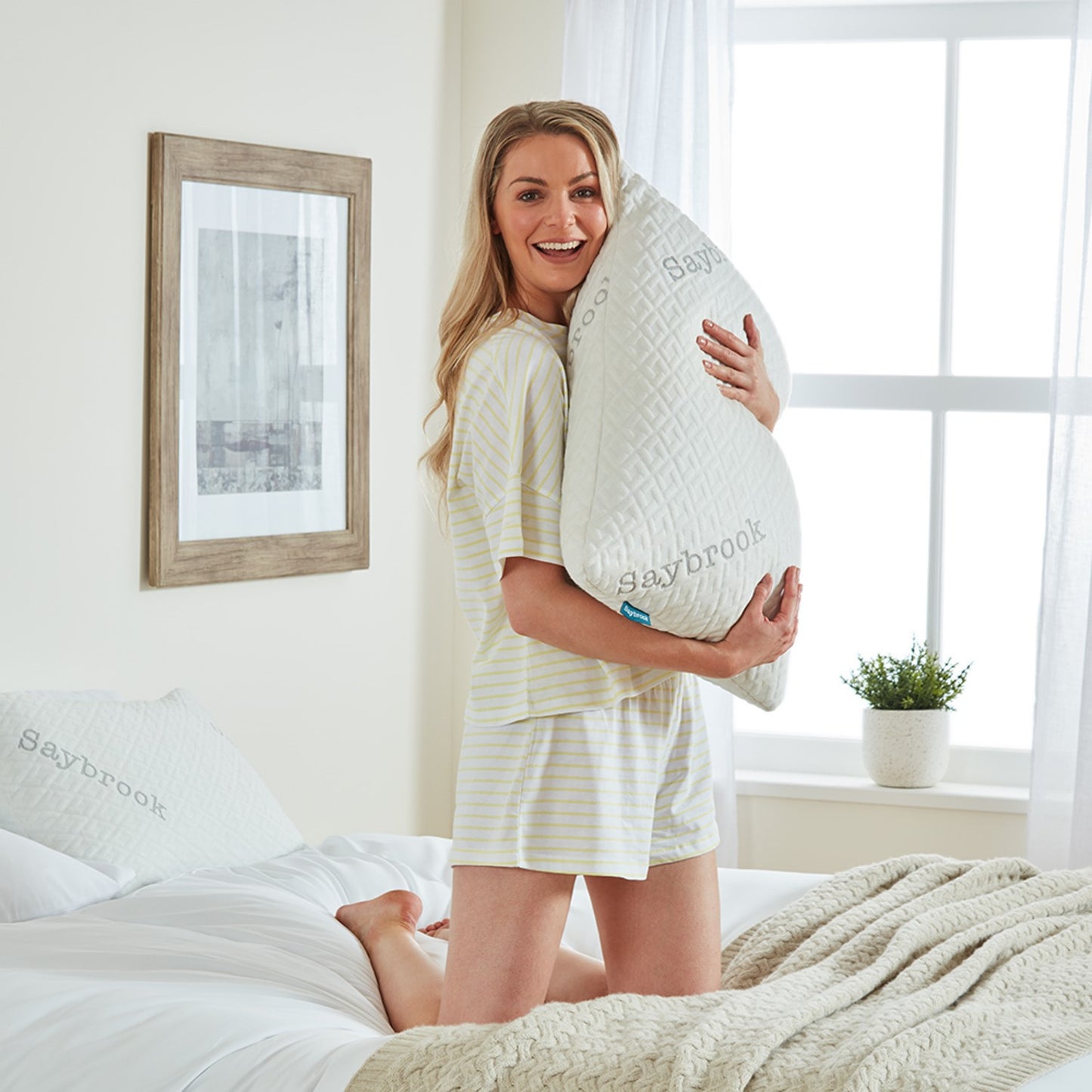 "I had no idea that a pillow could have such an impact on my total wellbeing!"

"Hands down, this is the best!"

"Just the right amount of support while still feeling soft."
Adjust the loft to any height
Adjust the pillow loft easily by removing or adding back filling. Achieve perfect posture alignment in any sleep position you prefer for both him and her.
The pillow comes densely packed and lofty, which enables the full range of adjustment. If you prefer a thin, soft pillow, simply remove a generous amount of filling and then fluff thoroughly.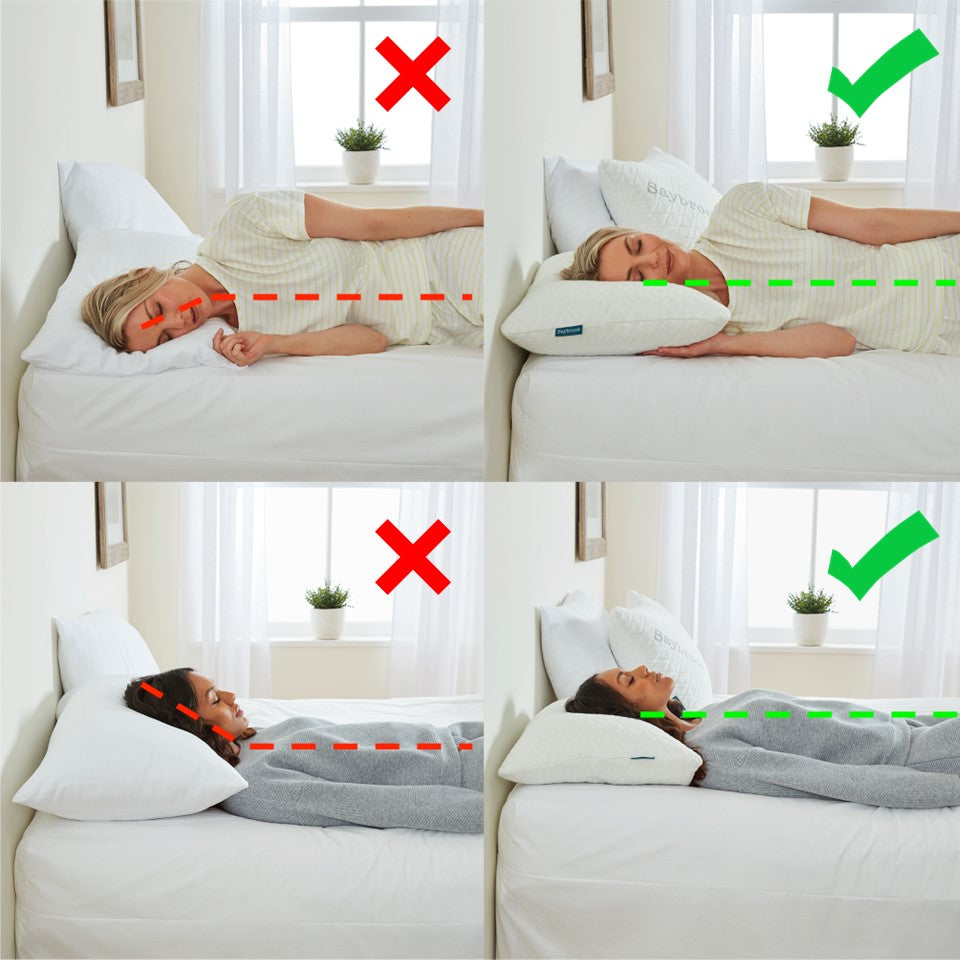 Sleep perfectly supported
You can personalize the pillow thickness without folding, scrunching, or punching the pillow.
With a tailored fit, you can sleep soundly in any position without tossing and turning.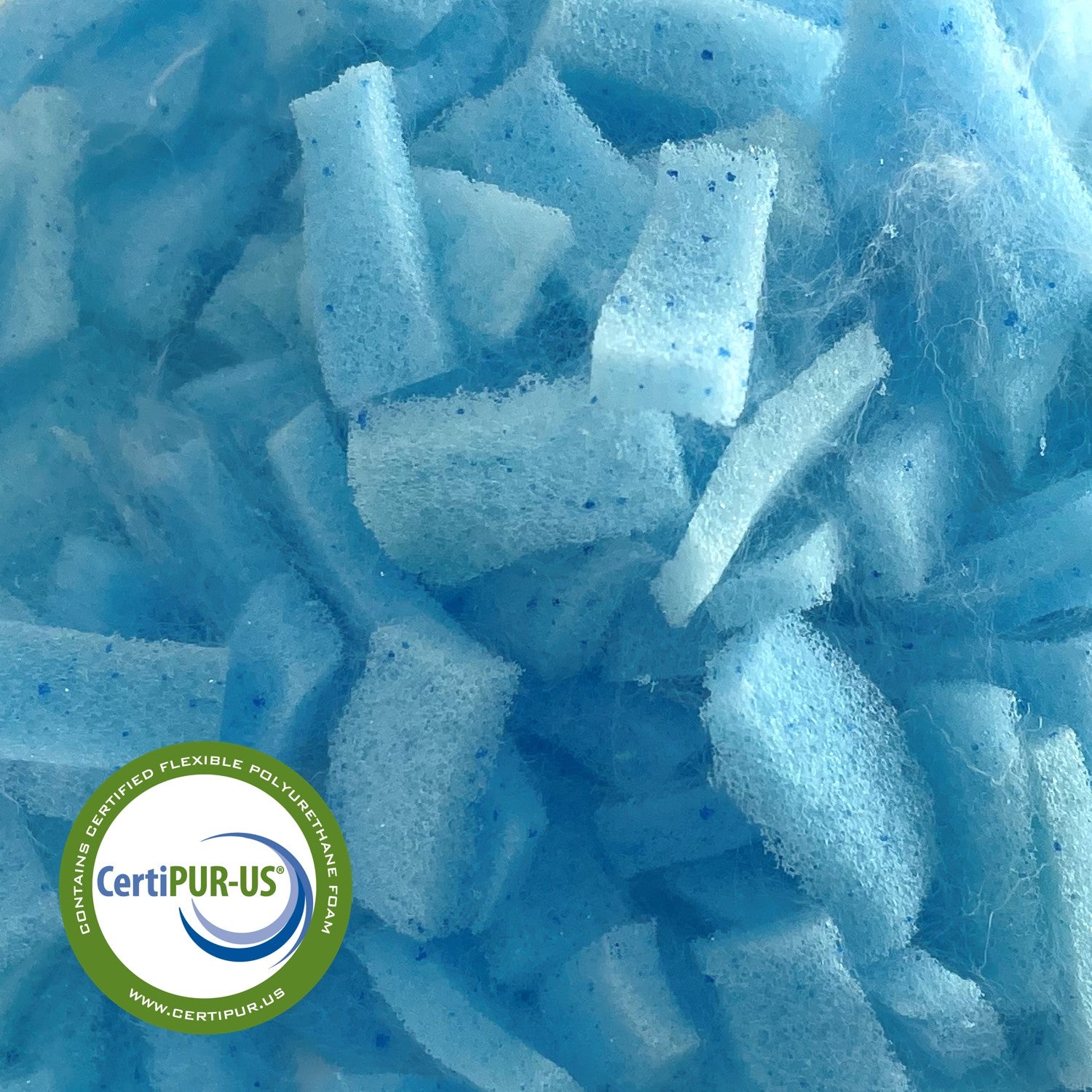 Lie down with Lion Down
Lion Down Alternative® is a special, luxurious gel-infused blend of memory foam and microfiber. The material is hypoallergenic, soft, and cruelty-free.
The microfiber technology creates silky plumes to mimic down while the memory foam provides viscoelastic support. Silicone gel beads passively regulate temperature, so you can sleep haute, not hot.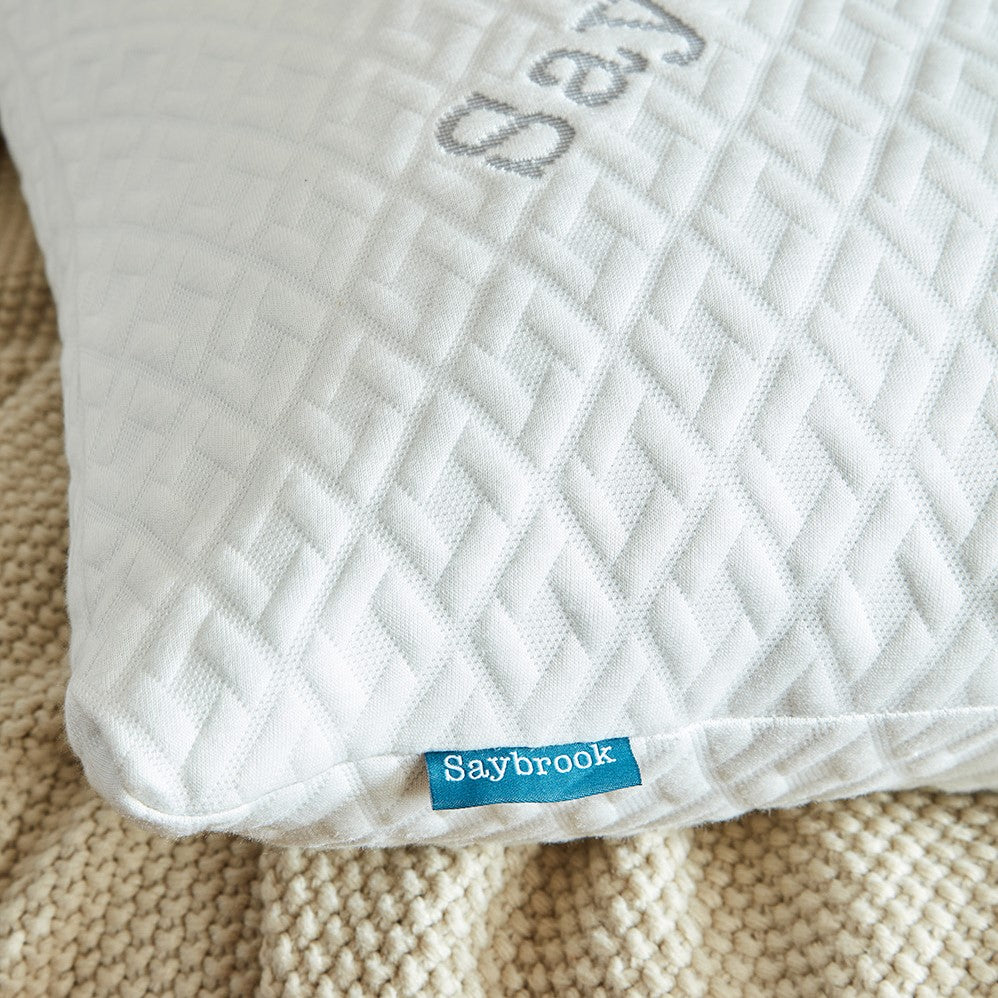 Feel the texture of the bamboo cover
The lustrously smooth and lustfully soft bamboo fabric is eco-friendly, extra-breathable, hypoallergenic, and machine-washable.
Designed to evoke the Venetian waterways, the removable cover adds an extra touch of luxury to the Saybrook pillow.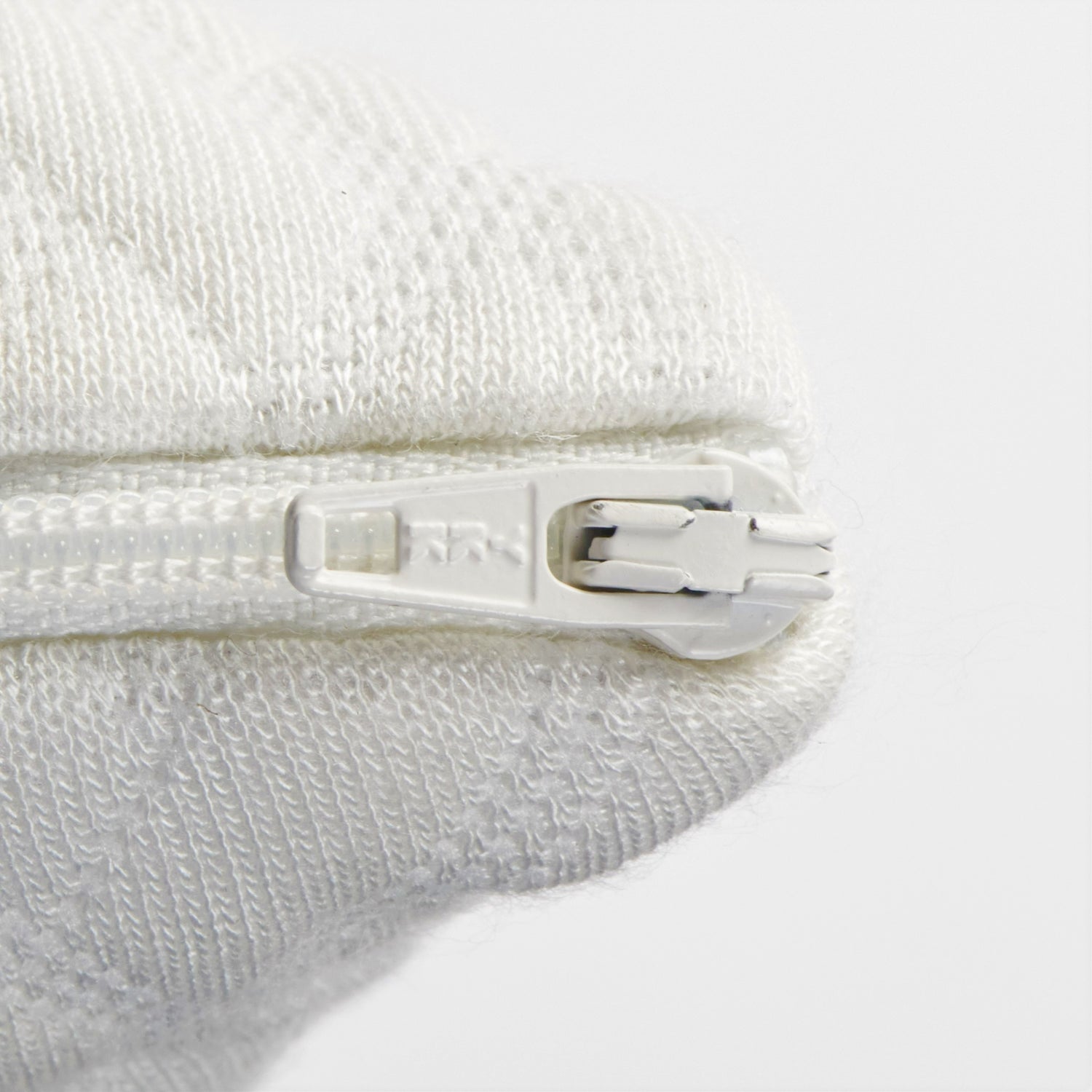 Enjoy world-class quality
Get the highest quality materials in every part of the pillow, even the zipper.
Saybrook pillows use YKK zippers to ensure easy operability when you need to adjust your pillow. YKK is the leader in zipper manufacturing worldwide, and its zippers can be found in high-end fashion everywhere.
The Goldilocks Pillow
Too Hard and Lumpy

Other foam pillows can be hard as a rock. Lumpy pillows are uncomfortable and will keep you awake.

Not Enough Support

If the pillow is too soft, your head will sink like a rock. These pillows wake you up when they fall flat.

Just Right

Saybrook's Lion Down Alternative® is meticulously designed to feel soft while providing lasting support.
Doctor Recommended
Dr. Rishi Desai, MD, MPH Chief Medical Officer of Osmosis

I'm a huge fan of the book Why We Sleep by Matthew Walker - among his keys for a good night is making sure that you're comfortable and relaxed. That's where the Saybrook pillow is head and shoulders above the rest! It's so well designed and gives me the exact amount of firmness that I need. If you are looking for a good night's rest, I sincerely encourage you to invest in your health by getting a Saybrook pillow!

Dr. Jaime Lee, MD, MPH, BMedSc, Founder and CEO of Health Quotient

A good night's sleep is one of the most important things to being physically and mentally healthy. It's not just about having a regular sleep routine, but also having the right support to help you rest deeply. The Saybrook pillow is very comfortable and offers just the right amount of neck and head support. It's adjustable which meant that I could tailor the pillow to suit my specific needs. Anyone looking for a pillow that helps you experience deep rest, you must get the Saybrook pillow!

Dr. Peter Chen, MD, University of Cincinnati Medical Center

After a long day of work in the clinic or in the operating room, getting a good night's sleep is essential. The adjustability of the Saybrook pillow allows me to change the amount of firmness and support for my head and neck, helping to optimize my comfort during sleep. For anyone looking for a restorative evening of sleep, I would definitely recommend getting the Saybrook pillow!

Dr. Lulu Guo, MD, Sleep Consultant at Valley Sleep Center

As a Sleep Physician, I seek products that work and test out many on the market to recommend to patients. The Saybrook pillow not only adjusts to each patient's comfort and preferred position during sleep, but it is also hypoallergenic. It has a luxurious feel with high quality materials used. I would highly recommend Saybrook to anyone who wants to upgrade their current pillow and values a good night's rest.
Perfect for Those with Neck Issues
I love that this pillow is adjustable. I have had neck pain as a result of using a pillow with no support. When I got this pillow, I liked that it didn't sink to the bed with the weight of my head, but it was too hard. I took out enough memory foam to fill the container that comes with it (and I put in a lot and pushed it down to get as much in as I could), and I would guess I ended up taking out about half. Perfect! I have the support I need without it being brick hard. It's so easy to take out foam or put some back in, too, so you get the loft you need for your situation. I haven't had any neck pain at all since using it. The pillow is expensive, but so far it's been well worth every dime.
OMG. Perfect!
If there was an actual heaven, and if you got to go there after you died and you rested your head upon the laps of angels who gently stroked your brow as you peacefully drifted off to sleep, your experience would be exactly the same as sleeping on this pillow. I am a side sleeper, so I left all the stuffing inside, and this pillow just gently and sweetly hugs my head in its perfect pillowness until I am blissfully dreaming. It does not shift its guts at night, or need constant refluffing. I've only had it for a week, so I hope it doesn't lose it's magic over time, but assuming that it remains as is, I have found pillow Valhalla.
The best pillow I've ever had! Heartily recommended!
I am SO happy with my purchase. The pillow is of amazing quality, feels great, and offers fantastic support. This is the first pillow I've ever had that I use on its own with no other pillows to support it—it's that good! The filling feels so nice and fluffs up again in a jiffy when you give it a little toss. I sleep on my side, back, and belly intermittently, and this pillow keeps up with me so well and makes me want to put my head down on it to sleep. Thank you Saybrook for making an amazing product! You've got a very satisfied customer here, and I will be recommending your product to anyone who asks moving forward :) 
so cozy
I'm a side and back sleeper and love these pillows! I bought a couple like these (i.e. shredded memory foam) on Amazon at a fraction of this price, but i could feel the corners of the foam in my face and there was no way to remove any to adjust to my needs...definitely NOT as cozy. These Saybrook pillows are soft and adjustable! I used to have a pillow that was like a block of memory foam, with curves. And while it was great for awhile, when I tried one these pillows at my friend's house, I knew I had to have one! Bought one for my boyfriend too!
Custom Fit is Sweet
Being able to tailor the fit of this pillow to your own physique and favorite sleeping position is a big advantage that cannot be overstated. I pulled filler out on 3 occasions to get the fit I wanted. The storage bag is now stuffed and might make a nice pillow too. Saybrook is expensive as pillows go but paying extra for a customizable fit is a no-brainer. Also I tend to get warm at night but have had no issue with the pillow being warm and no problems with any zippers. As a predominantly side-sleeper, very satisfied with this purchase.
Finally found the pillow!
I have never found a memory foam pillow that even came close to comfortable, but wanted to try these because of the consistent great reviews; and only took the chance because of the return policy. The reviews are absolutely legit, and although some mentioned a zipper issue, I didn't have any issue with the zippers. By the way, you don't even know there is a zipper when you sleep; it's almost as if it disappears. The pillow is not hot, and is made as soft or firm as you want to make it, which is the best part. I've tried so many pillows, but never one like this, and you wouldn't even think it was memory foam because it's so soft and comfortable, even at the firmest level. Thank you Saybrook!
FAQs
How do I adjust the Saybrook® Adjustable Pillow?

Start by unzipping the outer bamboo cover and the inner lining. You can then remove as much filling as you want. The more filling you remove, the lower the loft and the softer the pillow. Most people prefer to remove 1/3 to 1/2 the filling. If you like the loft but find the pillow is too firm, you can remove 2 - 5 additional handfuls of filling and then fluff the pillow back up to a higher loft.
What are the dimensions of the pillow?

The Standard/Queen size is 26''x18'' while the King size is 36''x18''. The loft is fully adjustable.
What is the filling made from?

Saybrook® uses a special blend called Lion Down Alternative®. It is notably not made from real lions or real down as we are a cruelty-free company. Lion Down Alternative® contains precision-cut memory foam, microfiber plumes, and silicone gel beads. The memory foam provides viscoelastic support while the microfiber plumes mimic the softness of down. The silicone gel beads help with passive temperature control.
How much filling is in the Adjustable Pillow?

The Standard/Queen size comes with approximately 3.5 lbs of filling while the King size comes with approximately 4.5 lbs of filling. Most sleepers will prefer to sleep with less filling and will remove approximately 30% of the filling to achieve their comfort level. The removed filling can be safely kept in the zippered packaging the pillow arrives in for future adjustments.
Is the memory foam CertiPUR-US® certified?

Yes, our memory foam is CertiPUR-US®tested and certified.
How do I take care of my Saybrook® Adjustable Pillow?

We recommend using a pillowcase on top of the bamboo cover in order to keep the pillow clean. You can also machine-wash the bamboo cover on a delicates setting. We do not recommend washing the memory foam itself because memory foam can take a long time to dry. By using a pillowcase and washing the bamboo cover, the inner foam should not require washing. We also recommend putting the pillow into the dryer on a no-heat, gentle cycle every 2 - 3 months to keep the pillow fluffy.
How do I keep the pillow fluffy over time?

You can put the pillow into the dryer on a no-heat, gentle cycle for 60 minutes every 3 - 6 months in order to keep it feeling fluffy and lofty over time.
Do you recommend using a pillowcase with the pillow?

Yes, we recommend using a pillowcase on top of the bamboo cover to keep the cover protected. In fact, in the hospitality industry, it is best practice to use two layers of pillowcases to keep the pillows clean.
What makes the Saybrook® Adjustable Pillow better than other pillows?

The Saybrook®Adjustable Pillow can be adjusted to any loft or any firmness level you desire. Other pillow brands only offer one loft level and firmness level or they offer a selection of options at checkout. The Saybrook Adjustable Pillow can take on the entire range of options that will suit your sleeping preferences and body type, and it can be fine-tuned from the comfort of your own bed. While there are other adjustable pillow brands, we take pride in the quality of our special Lion Down Alternative®fill material and the quality of the bamboo cover to give you the best sleep experience. Poor quality immitations can feel lumpy and uneven, but Lion Down Alternative®provides the consistency you'd expect from a premium pillow.
Does the Adjustable Pillow come with the Bamboo Cover?

Yes, one Bamboo Cover is already included with the Adjustable Pillow, fitted on top of the pillow. You can purchase additional Bamboo Covers as a separate product, which can be used as replacements after a period of wear or for rotating to reduce wear and maximize hygiene.